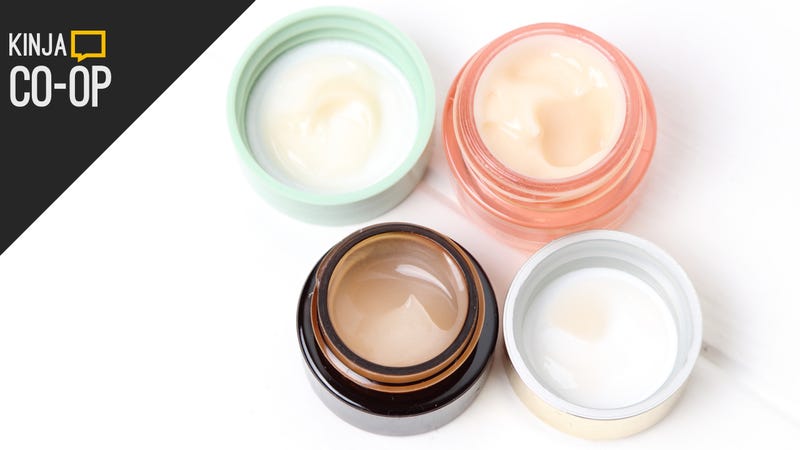 Searching for the perfect moisturizer is damn near impossible. Long gone are the days when a moisturizer was merely a moisturizer. We've entered the golden age of tinted, SPF-laden, facial creams infused with essential oils. It's nearly impossible to differentiate between what you need and what you've been cajoled into needing. And, let's not forgot: The prices of most beauty products are, well, completely cuckoo. It's well known fact that a $150 product in Sephora can only cost a measly $2 to make. The whole thing is a complete shitstorm racket.
But don't despair! Rather than give up on perennially poreless skin, tell us everything you do know. Whether you bow down before the altar of Korean skin imports, small-batch beauty brands (Glossier! Herbivore!), drugstore finds, or just make your own, we wanna know all about it. Do tell us what you use, how much you spend, and what type of skin you have so that we can copy you and your angel-soft skincare routine. At the end of our co-op, we'll crown one moisturizer king.
1) Your nomination should contain:

The specific name of the product, not just a brand or series.
Why you think this item is the best.
A link where the item can be purchased.
An image of the item.

2) Vote by starring someone else's nomination.

3) Please do not duplicate nominations.
More things that are worth it:
---
Image via Shutterstock
Commerce Content is independent of Editorial and Advertising, and if you buy something through our posts, we may get a small share of the sale. Click here to learn more. We want your feedback.

Send deal submissions to Deals@Gawker and all other inquiries to Shane@Gawker.